Opinion: 26 vs 27.5 vs 29-inch Wheels
26 vs 27.5 vs 29
Back-to-Back
WORDS
Matt Wragg
PHOTOS
SRAM/Simon Cittati
VIDEO
Alex Boyce/I-MTB
| | |
| --- | --- |
| | "Objective Journalism is a hard thing to come by these days. We all yearn for it but who can point the way?" - Hunter S. Thompson |

So much for the plan. It was a simple one, a good one, but some things just weren't meant to be. SRAM would come down to Massa Vecchia and bring their test bikes with 26, 27.5 and 29-inch wheels. We'd ride them back-to-back for a few days and make some observations. No conclusions, try and be dispassionate. A few days were put aside afterwards to get the whole thing scribbled down before I headed to China. Then came the steaks. Two 1.2kg slabs of Tuscany's supposed best beef between four of us. We all felt a bit off the next morning, but surely that was simply because of how much meat we'd ingested. As we were trying to sum up the bikes on the beach the fever started rising... Anyone who's had food poisoning knows all too well what followed.

Lying on a sweat-stained bed, alternating between shivering and burning isn't the time to try and write words of great meaning. So the piece got delayed, China came and went, two weeks of the endless, empty hours in planes and cars that fill long-distance travel. Time to consider the world, too much time to think. With it, the realisation that life is too short to sit on fences, so the neutral piece died a death and what's left is this: my take on 27.5-inch wheels.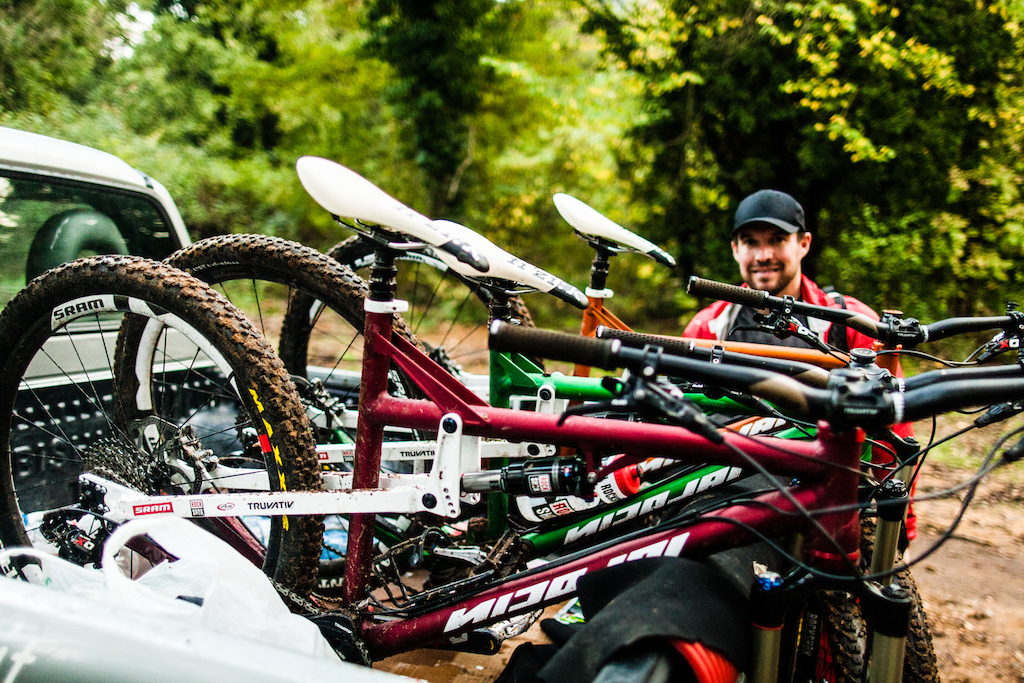 The three test bikes - the 26 and 27.5 both had 150mm travel, while the 29 had 120mm. All three had wheel-corrected geometry to help them feel as similar as possible and ran 1x10 drivetrains with a 32 ring up-front, and a 11-36 cassette.

I first heard of 27.5-inch wheels in Taipei this year, where they were being touted as "650B", which sounds a bit too much like an MDMA-derivative for my liking. There was much secrecy; we were allowed to see these magical parts, but no photos. Apparently I'd been living under a rock and missed the latest mountain bike industry hype - wheelchair wheels were coming to mountain bikes and it was a Big Deal. RC, our tech editor who knows these kind of things, pointed out to me that these wheels had actually been in production for five years. The selling point was the compromise - they should roll better than a 26 inch wheel, but keep the bike feeling livelier than a 29er. There was also a hint of hysteria; off the record people were admitting that they'd blown it with 29ers, missed the boat, and they were damned sure they weren't going to miss this one.

Seeing the rise in interest in this new wheel size, SRAM built test bikes to help people understand the differences between the three. They took the Nicolai Helius AM frame and had a small fleet of them built with 26, 27.5 and 29-inch wheels. What made these bikes so special was the geometry - they had custom, corrected geometry, so the three different bikes felt as similar and neutral as possible to help riders focus on the wheels. SRAM then decked the bikes out with nearly identical Rockshox suspension, Rise wheels, XO groupsets and Truvativ controls. It is worth noting that the 27.5 test bike couldn't have carbon wheels for the test, which does make a difference in the bike's handling.


The Testing



To test the bikes I invited a couple of friends who ride at different levels to bring in a wider range of opinions. I ride quite a lot, generally on technical stuff and like my bikes set up hard and fast, Alex rides a couple of times a week on more all-mountain trails and likes a neutral bike, and Giulio rides on mostly XC trails and likes his bikes comfortable. All of us currently own and ride 26-inch bikes, and Giulio and Alex have never spent much time on any other wheelsize. The plan was to do a day at Cala Violina riding short cross-country loops and then spend the second day shuttling something shorter, steeper and more technical. Nature had other ideas and on the second day of testing the worst flooding to hit Tuscany in thirty years squelched any ideas of riding - two people were killed in the next town over from us. No worries though, we still had two days of filming to play with the bikes, plenty of time repeating sections on different bikes... Until I had a good go at knocking myself out at the start of the second day. In the end, I feel that I managed enough time between the three bikes to draw some conclusions and the aim of this small test was never to try and offer definitive numbers or facts.

Bad Science

To try and get some idea what the stopwatch said about the bikes we strapped the worst invention in mountain biking to my bike - Strava. Using a Garmin GPS, I took three laps of the 7km-ish trail near Cala Violina. It's a fairly steady, flowing trail, or at least it was until I got lost on my first lap and added in a brutal climb and a Superenduro descent by accident. Rather than repeat the lap, I repeated the mistake for the next two laps as the descent was fun. Any scientist will tell you that three laps and three short descents is a pretty poor sample, you'd need much more data to draw anything conclusive, but it was enough information to be interesting. There are also some discrepancies in the data as you can see on my Strava page, but the loop was the same, so the times are accurate (basically using the GPS as a shiny stopwatch).

I rode the 26-inch bike first, then the 27.5 and finally the 29. Over a whole loop the 29 was fastest, followed by the 27.5 and then the 26. What draws light on the time for the 29-inch bike is that the time was set on the last lap, at the point in the day when I would expect to be slowest. The times pretty much match up to how the bikes felt - especially with the 29, where there was a real feeling that you were rolling faster. However, on the descent section, according to Strava, I was much faster on the 26, which was the first run when I was riding blind. It's hard to say whether it was because I went too fast, as I had no idea what I was doing, that I find 26 inch wheels easier to push on, or because Strava is wildly inaccurate. What I can say for sure is that I enjoyed the tight, twisty descent most on the 26 inch bike and it would have been interesting to see if this was borne out over a whole day of shuttling a single track. Filming proved to be good for the testing, as it meant hours of hitting the same sections back-to-back on different bikes, so you could focus on small differences over a very specific bit of trail.




We did much of the filming on the Superenduro race trails around Puntala.You can ride them in two ways - flicking the bike around the obstacles in the base or trying to stay high and out of trouble. Alex and Giulio both like the smaller wheels for staying down low, or making the odd break for the high ground. For me the 29er really came into its own here are as you could straighten out the channels and hold it wide open, even if it didn't necessarily inspire the confidence to go for the sketchiest high lines.



What did we make of the bikes?

At the end of the test, we took a straw poll - ranking the bikes first, second and third:


| | | | |
| --- | --- | --- | --- |
| | Matt | Alex | Giulio |
| 26-inch | 1 | 1 | 2 |
| 27.5-inch | 3 | 2 | 1 |
| 29-inch | 2 | 3 | 3 |

Splitting out the winners, Alex chose 26-inch as he felt the other bikes "numbed" the trail too much, while Giulio opted for the 27.5-inch as he appreciated the extra roll-over, although it was close between that and the 26-inch. For me the winner came down to fun. When we were filming sections I realised after a while that I was choosing the 26-inch bike whenever I had a free choice of bike. It was easier to play with the trail on it - flick the bike around, pop off stuff. However, the 29-inch wasn't far behind for me, as the way it monster-trucked through rough sections was hilarious, the amount of extra speed it could hold in those kind of situations was impressive. It is interesting that both Alex and Giulio disliked the 29-inch bike as they found it slow through relatively tight corners and that this greatly outweighed the way you could plough through things on it.




Breaking down the differences

Ultimately, the differences between the wheel sizes were more or less what you would expect. The 29-inch bike could barrel through sections wide-open, but it was harder to carry speed through tight corners. 26-inch wheels tended to lose speed more readily, but you could play with the bike more easily. It's here I take issue with 27.5-inch wheels. The traditional logic states that they roll-over things better than a 26-inch bike, but handle more nimbly than a 29-inch bike. However, if you flip that logic on its head, they don't roll-through as well as a 29er and don't handle as well as a 26-inch wheeled bike. For me, at least, 26-inch bikes are the most fun to play with and, at the end of the day, that's what mountain biking is supposed to be about. If you start looking at the new generation of fast-handling 29-inch bikes coming through, like the Specialized Stumpjumper 29er, the Santa Cruz Tallboy or the Orange Five 29, the inevitable question for me is "What's the point of 27.5?" The sacrifices for running a bigger wheel size are becoming fewer, so why lose that extra roll-over? The in-between size starts to look like an unnecessary compromise.



Yet this is all personal - the truth is that what I want from my bike and a ride might be very different from what you want or enjoy. I can't sit here and honestly say 27.5-inch bikes are bad, just that I prefer 26 and 29-inch bikes. Maybe a 27.5-inch bike would mean you can have more fun out on the trail, or maybe the stopwatch says it's faster for you in a race. If I'm going to make big statements about what I think mountain biking should be I can't deny you whatever you think is fun (unless it involves braking through corners, in which case - stop it). What I don't like, and what I think we should be wary of, are the suggestions you hear from time-to-time that 27.5-inch wheels will replace 26-inch wheels. As another option I can live with 27.5-inch wheels, even if I don't want to ride them myself. But, if we get down to nut-cutting time, if we were forced to make a decision between 26 and 27.5, that's when I could not accept them. That's when I think they should be rolled back into the ocean.